Course details
★ Luxurious Matsuzaka beef steak course (with 3 kinds of steak) 9 dishes all 2 hours 30 minutes All you can drink course 【4500 yen】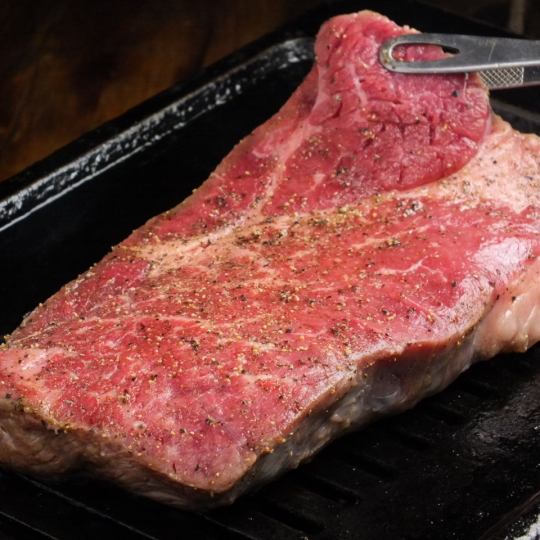 By using a coupon4500 yen
* Tax excluding, the charge is the charge of cash payment, payment other than cash is plus 200 yen for one person rate
All-you-can-drink available

All-you-can-drink all-you-can-eat ♪ Prepare 20 different cocktails alone!
Reservation deadline

Until 19 o'clock on the desired date of coming to the store
Available days for reservation

Monday - Sunday - Public holidays - Holidays
Steaks including Matsusaka beef steak It is this price for 2 hours 30 minutes for beer, wine and Japanese sake as all 9 kinds of dishes.It is a price that is not comparable with other stores.
Course menu
Potato cheese dip
Fresh Japanese style salad
Beef Tanger & Kujo Negi Fly & Potato Fly
Specialty Round Beef
Sakura Hime Chicken Negishi Steak
Japanese style stone-fried steak
Matsusaka beef steak lava roast
Garlic rice
Chocolate fountain
※ If you use the course for more than 4 people with reservation by the day before, if you apply, we will put a birthday cake at +1000 yen !!
All you can drink 2 hours Super dry, wine, chuu high, whiskey
Shochu, Cocktail 22 types
* Changes in the number of reserved guests are until 13:00 on that day, and changes for 3 or more people are up to 3 days in advance.The sales for which the number of people has decreased without notice of change will be charged for the number of reserved guests
If you want to drink all you can drink, the number of people for group members × 500 yen, please order by the amount you can drink.A group of more than 10 people will be ordered with a decanter or a pitcher
All-you-can-drink menu
· Beer · Beer Cocktail
·Super Dry
· Cocktail 1
· Cassis Orange / Kiel / Kalua Milk / Campari Orange / Peach Tree Fizz / Demon Afternoon / Furu Furu Mango / Gin Tonic / Screwdriver /
· Cocktail 2
· Sakura · Drops / Cuba River / Green Monster / Cassis Oolong / Grand Blue / Jungle Cruise / Bloody Mary / Angelina / Fuzzy Navel
· Cocktail 3
· Milk Panic / Bananaman // 300 BONE Special (Secret)
· Wine · Shochu · Plum wine
· California wine (red or white) ★ Shochu (rock or soda) ★ plum wine (rock or soda)
· Shochu high
· Lemon / grapefruit / hyaluronic acid cam cam / collagen white grape / Calpis / coke lemon / green apple / apricot / giant peak / oolong split / gyokuroku
·Highball
· High Ball / Ginger · High Ball / Cork · Hi Ball / Pot Hi / Bowl / Apple Wine · High Ball ★ (Whiskey) Jim · Beam /
·Soft drink
· Coca Cola / Ginger Ale / Tonic Water / Orange Juice / Grapefruit Juice / Oolong Tea /
Coupons that can be used with this course
2018/11/13 update